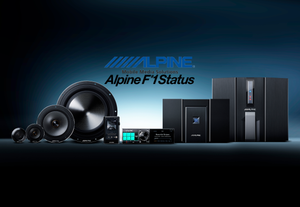 Alpine F#1 Status Dealer
Status Series
Require professional installation services?
PHATT AUDIO CONCEPTS
It's all about the music... well in essence it is, and we believe that all too often that is forgotten.
Our humble beginnings start with a love for music, and in our younger years we realised this could be blended with a passion for cars. For us, it was about creation and as we refined the best techniques to marry the two together, a career and business soon followed.
You see, like an artist feels a sense of excitement when applying that first brush stroke to a blank canvas, we approach modifying vehicles the same way. Our creativity, and vision is limited only by your imagination and dreams.
It's not always going to be a Mona Lisa or Whistler's Mother though. We understand and appreciate our customer's needs, and their applications. A typical day at our workshop includes upgrading OE vehicle speakers, or the installation of a security system. We still apply this same passion and attention to detail to every single project though.
When a vehicle leaves our establishment, it's a reflection of us
and we believe your reputation is only as good as your least happy customer.
Testimonials
The team at Phatt are absolutely amazing. They are reliable, honest and operate with integrity. Attention to detail from cable management to tuning and the end result is superb.

Myles G.
These guys are amazing. Quick service and very knowledgeable. Thanks Sam. So happy with my audio & lights setup for my car

Cameron M.
I had a great experience with Sam, Nick and Aldana from sales to install to aftercare. They took the time to listen to my needs. Even though I have a difficult brand of car to work on (Jaguar), they were able to explore options including an amp and speakers at no extra charge and in the end we went with a subwoofer which I am thrilled with.

Steve D.